I wrote Take Action! Revise Later for entrepreneurs and business professionals like you who are excited about making a huge impact with their business. But it's not for everybody!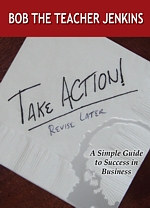 Order the platinum edition of TARL today if…
You're ready to get out of your own way and finally finish things you start.
You're eager to achieve bigger results in your business without working ten times as hard or trading time for dollars.
You're passionate about helping people profitably, but not sure what to do next.
You're overwhelmed by all the choices and possibilities with your business, and you want a clear guide to making more profitable decisions.
You're a pretty big deal in the offline world, but all thumbs when it comes to online marketing.
You're going insane with marketing expenses and want free and affordable ways to get more clients and customers.
You're bored of mediocrity and ready for new challenges.
Get More From The Take Action! Revise Later Platinum Edition
Some people order Take Action! Revise Later from Amazon (for $17.97), but those "in the know" get a better deal when they pick up the Platinum Edition from this page for just $30 $10 more.
When you order the platinum edition of TARL, you get…
The book shipped to your home (not available in stores!)
Take Action! Revise Later audio book delivered instantly to your computer as downloadable MP3 files, chapter by chapter
"Read along" video of the book chapter by chapter, delivered right to your screen
and special surprise bonuses to help you put the TARL philosophy into action.
Accelerate the results of your business, and have more fun helping people profitably by upgrading now!
Your Satisfaction 100% Guaranteed!
If after reading, listening, and watching Take Action! Revise Later you aren't excited about the new clarity you get from my lessons in the book, simply send it back and I'll give you a full refund!
Special Limited Time Bonus #1: Free Shipping And Handling

For just a few more days, you get free shipping on your order! I'll pay the postage to send my book to you.
Special Limited Time Bonus #2: I'll Autograph Your Book!

I don't know about you, but I love having autographed copies of books I cherish. Which is why I'd love to send your copy with my signature inside! If you're one of the next 107 fans to purchase the Platinum Edition, that's exactly what I'll do for you!
Honestly, I have no idea what my signature is worth (and I have no plans on dying any time soon for the value to spike), but I do know that you'd normally have to travel to a live event in order to get me to autograph your book. With this bonus, no travel or time away from home is necessary!

Order Now For Just

$47

$27
That's not a typo – you can get the book, audio book, video, and bonuses for just $27 for a limited time. I'm practically giving the platinum edition away because…
I want to get these ideas spread around the world as fast as possible
In this economy, I know that every penny matters
I'm confident you and I will continue to work together in some capacity in the future
You're an insider – Whether you're one of my long time customers or a friend of one of my partners, you're an "early bird" and you deserve the special deal!
Yes Bob! Show me how to improve my business and have more fun
helping people profitably with the Take Action! Revise Later Platinum Edition
By ordering now, I'm eager to receive…
Signed copy of the book shipped to my home
Take Action! Revise Later audio book delivered instantly to my computer as downloadable MP3 files, chapter by chapter
"Read along" video of the book chapter by chapter, delivered right to my screen
and special surprise bonuses to help me put the TARL philosophy into action
Regular Price $47

Today Only $27
What People Are Saying About Take Action! Revise Later…
I just finished reading "Take Action! Revise Later" by Bob Jenkins and have a very bold statement to make.
This book is now my #1 recommended must read for any & all new or frustrated Internet Marketers. I feel this is the primer needed to give the reader focus, clarity, and proper action steps to eradicate procrastination & doubt while creating their online business & future results.
Bob delivers so much value in such a concise and easy to follow manner that it clearly demonstrates why he's known as Bob The Teacher!
Go get & read this book ASAP! Your increased focus, actions, and results are counting on it.
Tom Beal, VP of Marketing
MikeFilsaime.com
I can't thank you enough for your book, Take Action! Revise Later.
I have had a gluten free cookbook "almost" finished for just under a year now. I kept playing around with it. It just didn't seem like it was ready to be released. I'm not sure what was holding me back . . . fear, maybe? I don't know, but it has been on my computer for 11 long months.
I read TARL in 1 evening. I couldn't put it down. It was like you were talking directly to me (and yes I did grow up in the carbon copy era).
Two weeks after finishing Take Action! Revise Later, my cookbook is live on Clickbank and I made my first sale 2 days after it went live!
Thank you, Bob "The Teacher" Jenkins, for the "boot in the drawers" I seemed to need to get off the fence and get my book out there. You gave me permission for my book not to be perfect, just out there.
Take Action! Revise Later. I highly recommend it.
Mary Blackburn
EasyGlutenFreeLiving.com
It comes as no surprise to me that you have knocked this one out of the park with "Take Action! Revise Later." I read it from cover to cover, started over again, and then had to put it down because I was inspired to take action and not just read about it!
In fact, I was also inspired to write an article on my blog about procrastination and how it relates to not taking action. You may not see the direct connection, but it's there in my thought process. Trust me.
From the inspired cover graphic, to the methodical way you make your case, to the compelling stories you tell of your own experiences and that of others, "Take Action! Revise Later" is the quintessential inspirational guide that also manages to be a how-to manual. You show us how to let go of the illusion of perfectionism and embrace the realistic and more honest attitude of providing quality-in-progress.
I know this will shock you, Bob, but for a time I considered not buying this book. I've struggled with perfectionism for most of my life. As a result, unpublished novels on my computer's hard drive, boxes of uncompleted craft and sewing projects, and notebooks filled with unrealized ideas and dreams have been constant reminders of failure.
I grew up hearing "If it's worth doing, it's worth doing perfectly." Talk about a set-up for failure!
But I'm grateful that, in the end, my compulsion to strive for perfection didn't keep me from buying and reading your book. To be honest, I couldn't imagine not supporting such a cool event in your business. After all, I'm one of your biggest fans.
Thanks for having the courage to take action on writing a book, when the enormity of such a task could have prevented you from following through. "Take Action! Revise Later" is one of my prize possessions now. Thank you!
Deb Gallardo
DebGallardo.com
I think TARL is one of the most methodical books I've read.
I like the way Bob presented his book and the real life events he shared as well as the lessons learned.
I would surely recommend this book to my friends and my list. I just loved it!
Ferdinand Tabien
Turbo2ProfitSystem.com
Do you have too many ideas, talents, passions to make any progress? "Bob the Teacher" Jenkins has created a little gem of a book in "Take Action Revise Later" that should be in the pocket of every creative entrepreneur.
The SOS (Shiny Object Syndrome) chapter spoke to me especially, as the Shiny Objects I and my clients tend to chase are not only new business opportunities but their own multiple ideas and passions.
The metaphors he lays out on his walk around Washington D.C. are brilliant and even poetic. This book is a quality and enjoyable read as well as a practical and comforting tool for those of us plagued and stymied by perfectionism.
If you've invested in too many programs and "Shelf-help" buy just ONE more thing — this book!
Lisa Rothstein
DaVinciDilemma.com
I LOVE this book! As a stay at home dad with 5 kids, I needed a book like Take Action! Revise Later to keep me focused on the simple things in my business so I can spend more time with my family. I felt like Bob was across the table giving me solid advice like he would give any friend or client. Quick to read, easy to apply, these lessons will guide you to success, too.
Chris Morris
TheInternetDad.com
Save yourself 3 years of trial and error and absorb everything you can from this book. Bob's TARL approach has changed the way I do business. His ability to break complex methods into understandable action steps makes it easy to jump start your business in the right direction!
Erica Cosminsky
TheSmallBusinessTranscriptionist.com
Bob Jenkins has done it again!
First an inspiration in the classroom and over the social media airwaves, Bob now brings his unique ability to transform the complex into common sense to book form.
In Take Action Revise Later Bob brilliantly breaks down the most dizzying concepts for building an online business into simple, digestible bites that are easy to swallow. But much more than that, he inspires a wonderful sense of self-confidence because his lessons are so very memorable.
Kim Nishida
ProfitableCommunities.com

Take Action, Revise Later gives you a practical and metaphorical kick in the butt, especially if you're a recovering perfectionist! Bob will you're your biggest objections and dismantle them down to their lowest common denominator – excuses.
Have a copy of Bob's book handy for those days when you simply can't move forward. With each chapter, Bob throws you a proverbial life preserver, ensuring that life-as-we-know-it will not end if your website isn't perfect, your copy clean and your graphics flawless.
After reading this book, you'll learn to forgive your foibles and cheer your successes – because you're finally in action, not simply planning for it.
Lisbeth Tanz
SavvyFreelanceWriters.com

As one of Bob The Teacher's more 'mature' students, I didn't grow up with computers. It took me a while to appreciate the obvious sense of the TARL strategy. But had I waited for everything to be perfect to my eyes, my websites would still be in draft form and I would still be at the starting blocks.
When I look back at my first attempts at online marketing I cringe, but using TARL I can easily change things even now.
I wholeheartedly endorse the approach of Take Action Revise Later as an essential for success in any business.
Bob Lampard
LaughingYourWayToLove.com
Clear, concise and of course, simple. Bob's lessons are like a pebble in a pool of clear water…the ripples will powerfully impact both your business and your life. And as a bonus, he gives you the steps to take action immediately. I don't know how he does it, but for the growth in my business, I'm just glad he did!
Chris Makell
RadianceMarketing.com
Whether you're just starting your business or have been in business for years, you should definitely run, not walk, to purchase Take Action, Revise Later. Success leaves clues and it's possible to model excellence by following the strategies outlined in this fabulous book. Why struggle on your journey when there's a resource so easily accessible that will shorten your learning curve, decrease your frustration and increase your chances of success?
Kathy Santini
SavvyAboutSuccess.com
"Take Action Revise Later isn't just another book to add to your to-do list. It's a compact jump-start-your-business-and-get-it-rolling-full-steam-ahead-quick-reading-guide to making your business ideas a reality.
Not only is it chock full of useful information, but Bob the Teacher provides inspiration and a fresh perspective on running your own business. The lessons he teaches are about getting going now.
It's time to stop thinking and start doing – like reading this book today!"
Felicia Slattery
CashInOnCommunication.com
Regular Price $47

Today Only $27
No Thanks – I'd rather order just the book from Amazon for $17.97
Did you already order the book? Upgrade to the audio-video version for just $17